Print
Pop up Display Boxes
Cheap & Delivered
Fast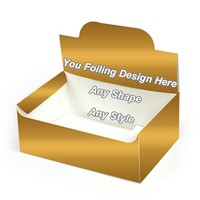 Cardboard

Cardboard hm

Custom

Custom hm

Die Cut

Die Cut hm

Embossed

Embossed hm

Gloss Laminated

Gloss Laminated hmm

Golden Foiling

Golden Foiling hmm

Matte Finish Boxes

Matte Finish Boxes hmm

Recycled

Recycled hmm

Silver Foiling

Silver Foiling hmm

Window

Window hmm

Full Color - Pop Up Display Boxes

Full Color - Pop Up Display Boxes

92% Of Our Customers Generate Their Instant Custom Printing
Quotation By Free Quotation Engine!

At Your Service

Print
Pop up Display Boxes
Cheap & Delivered
Fast

Description

When it comes to marketing your packed products, the popup display boxes are the best way to promote your products without displaying them individually outside the box. These boxes are designed in such a way that the product resides inside them and they details are showed on the popup back. The product viewed inside them can also be removed from the box which makes it very easy for customers to get hold of the item.

These boxes are mostly used by companies who sell packaged products but, also bundle similar products in boxes. The products reside inside their compartment made specifically to hold items while the back of the box is usually larger and go upwards to let the customer view the details and branding of the products easily without the need to individually hold the product and view it.

These boxes are designed in such a way that they can show the information of the products from distance. The back of these boxes are usually designed in such a way that the information is showed on its back. The back is the place which would be seen by the customer when it is first viewed by the customer from distance.

Packagingboxesco.com offer popup boxes in different styles which can be printed from different materials including cardboard, plastic and recycled material. The cardboard printed material looks simple yet attractive and they are offered in different textures and colors. The plastic boxes have waterproofing properties where vinyl ones are available in transparent look with the PVC ones being available in different solid colors.

These boxes must be attractive so they can attract more and more customers and our full-color printing option lets you get any color printed on the boxes. Images can also be printed on the boxes so you don't have to worry about color limitation.

We offer popup display box printing at attractive pricing where the prices are kept minimum without making any compromises on the quality of the printing.

Customer Service Information

If you are looking for the printing of custom packaging boxes for your business or personal use and want some unique shapes and custom made packaging then, the packaging printed by us are made right for you.