Print
Gable Boxes
Cheap & Delivered
Fast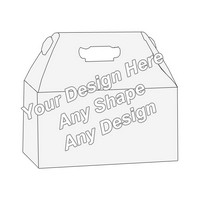 Cardboard

Cardboard 764

Matte Finish Boxes

Matte Finish Boxes 432

Recycled

Recycled 0101

Silver Foiling

Silver Foiling 0340

Golden Foiling

Golden Foiling 317

Gloss Laminated

Gloss Laminated 0794

Full Color

Full Color 0022

Embossed

Embossed 0024

Die Cut

Die Cut 384

Custom

Custom 0348

Window

Window 3005

92% Of Our Customers Generate Their Instant Custom Printing
Quotation By Free Quotation Engine!

At Your Service

Print
Gable Boxes
Cheap & Delivered
Fast

Description

Gable boxes are those kinds of boxes which can be used as bags in addition to their usage as boxes. They are mostly preferred by companies who want to get dual purpose from single products.

These boxes are preferred by companies who want to pack their products in boxes but, also want the boxes of their products to be used as shopping bags. These packages are used by shopping malls that pack their boxes but, also allow the same box to be used for transportation of the products.

Our printed custom boxes come in different shapes where the most common ones include custom, die-cut and windowed ones. The custom allows to print any kind of shape on your desired material and your required text can also be printed on the boxes. The die-cut shape allows to print any kind of unique shape on your packages according to your specifications while the windowed ones have opening on top of them to allow see-through capabilities.

All the packages can also personalize according to your requirements where options like emboss stamp and foiling is available in gold or silver. You can also add lamination on your packages where a different option like matte and gloss materials is offered.

Our customers can select from a variety of materials for the printing of packages including cardboard, plastics and recycled ones. The cardboard ones available in different textures and colors while the plastics are available in transparent material. The recycled material is environment friendly which can be recycled again.

We offer gable boxes printing services at attractive pricing where different packages aim to keep the per unit price of the box to minimum.

Customer Service Information

If you are looking for the printing of custom packaging boxes for your business or personal use and want some unique shapes and custom made packaging then, the packaging printed by us are made right for you.