Print
Auto Bottom Display Lid Boxes
Cheap & Delivered
Fast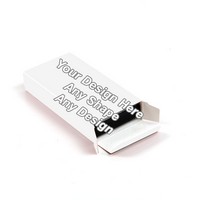 Custom

Custom

Die Cut

Die Cut

Embossed

Embossed

Full Color

Full Color

Gloss Laminated

Gloss Laminated

Golden Foiling

Golden Foiling

Matt Laminated

Matt Laminated

Recycled

Recycled

Silver Foilong

Silver Foilong

Window

Window

92% Of Our Customers Generate Their Instant Custom Printing
Quotation By Free Quotation Engine!

At Your Service

Print
Auto Bottom Display Lid Boxes
Cheap & Delivered
Fast

Description

Auto bottom display lid boxes are those kind of packaging boxes which have small popped up backs which can be used for promotion purposes. The backs of these boxes are made with the aim to add description, branding and other information in addition to the special offers and discounts being offered.

The auto bottom boxes have special base can be easily be used to make a box by unfolding the folded box. They are usually made from materials like cardboard and plastic where the cardboard ones are stiff with the plastic ones being waterproof. Vinyl plastic is also available which can be used to get clear boxes. We also offer recycled materials for the printing of the boxes which makes the items look environment friendly and also provide long lasting boxes to pack your items.

We also offer different personalization options to ensure that our boxes look different from others where options like lamination, foiling in gold or silver and finish in gloss or matte is offered. We also allow our customers to get their boxes embossed with their logo or any other information.

Order the boxes now from and have them printed at cheap rates where no compromises are made on the quality of the printing. We make sure that the customer gets the lowest possible rates without losing the quality.

Customer Service Information

If you are looking for the printing of custom packaging boxes for your business or personal use and want some unique shapes and custom made packaging then, the packaging printed by us are made right for you.