Print
Pillow Style Packaging Boxes
Cheap & Delivered
Fast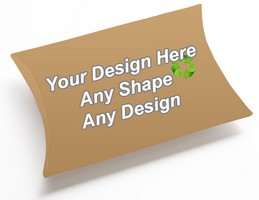 Cardboard

Cardboard bm

Custom

Custom gh

Die Cut

Die Cut bm

Embossed

Embossed bm

Full Color

Full Color bm

Gloss Laminated

Gloss Laminated bm

Golden Foiling

Golden Foiling bm

Matte Finish Boxes

Matte Finish Boxes bm

Recycled

Recycled bm

Silver Foiling

Silver Foiling bm

Window

Window bm

92% Of Our Customers Generate Their Instant Custom Printing
Quotation By Free Quotation Engine!

At Your Service

Print
Pillow Style Packaging Boxes
Cheap & Delivered
Fast

Description

Pillow style packaging boxes, as the name suggests are regular boxes which are printed in the shape of pillow. They are designed in such a way that their design aesthetics resemble the ones of the regular pillow. These boxes are not only aimed to pack pillows inside them but, they can also be used to pack other items inside them.

The design of the pillow packages resembles that of the pillow where the top and bottom of these boxes are round to look similar to the pillow. The sides of these boxes are also curved which look very much similar to the corners of the pillows.

They are printed from materials like cardboard which is rigid enough and come in different textures and colors. Our customers can also choose to have their boxes printed from plastic a material which provides waterproofing making them ideal for use at wet or moist places. The vinyl plastics provide transparency with the PVC ones being available in different solid colors.

Packagingboxesco.com offer the pillow style packaging box printing services in different shapes where the windowed ones allow to get the box printed with a small opening on top of them to allow the costumer see inside the box.

These boxes can further be customized according to your specifications where we offer embossing, foiling in gold or silver as well as lamination in matte and gloss finish.

Full-colors can also be printed on the labels where any kind of color or texture or colors can be printed. You can also get your boxes printed with images on them without worrying about the color limitations.

All the pillow style packaging boxes are printed at attractive pricing where the quality is kept top whether you select the custom or windowed design with any kind of material and customization.

Customer Service Information

If you are looking for the printing of custom packaging boxes for your business or personal use and want some unique shapes and custom made packaging then, the packaging printed by us are made right for you.